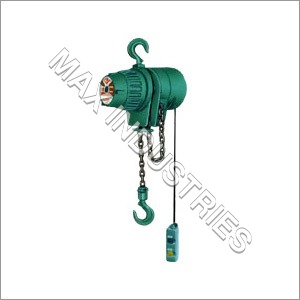 0.5 Ton Electric Hoist
Product Code : 05
Price And Quantity
Unit of Measure

:

,
Product Description
With the excellent support of our distinguished professionals, our company has been able to mark its strong presence in the market as one of the well known manufacturers, suppliers & exporters of
0.5 Ton Electric Hoist.
Manufactured by us using high quality materials and components, these chain hoists are capable to fulfill diversified lifting applications of various industries. Owing to attributes such as excellent efficiency, durability and long working life,
1/2 Ton Electric Hoist
is demanded among our clients.
Product Specifications:

Motor: 0.5 HP, 3 Phase, 1440 RPM, Class F, 40% Intermittent Duty, Induction Motor
Exceptions to EH2 Hoist: 6.3 mm, Grade 80, Alloy Steel Material Load Chain
Overall Dimensions: 560 x 410 x 265 mm (Head room x Other Dimensions)
Headroom (With Monorail Electric Traveling Trolley): 620 mm
Headroom (With Monorail Geared Traveling Trolley): 600 mm
Weight of Hoist at 3 Mtr. Lift: 35 Kgs
No. of Falls of Load Chain: 1 Falls
Headroom (Hook Suspension): 560 mm
Extra Weight per Meter: 1.2 Kgs.
Hoisting Speed: 6.4 Mtr./ Min
Further Product Details:

Conical Rotor Motor Start Motor
Overload Relay: Provided for protection to Motor.
Load Chain: 8 mm, Grade 80, Alloy Steel Material as per IS: 6216.
Designed in two separate free units – Motor Side (Driving Part) and Mechanism Side (Driven Part).
Driven by Conical Rotor Motor – Z Start Motor (Make: Anker)
Duty: Class II, 40% Intermittent obligation
Manufactured according to Seems to be: 6547 (Indian Standard)
Tested at 25 % Overload
Hooks: according to IS: 15560 - 2005
Load Chain: 8 mm, Grade 80, Alloy Steel Material according to Seems to be: 6216
Load Chain Wheel: S.G. Iron Casting – Accurately took with legitimate sitting in the Aluminum Chain Guide.
Chain Guide: Aluminum – Accurately fabricated with Machine coordinated retreat to give Load Chain decisively guided development around the heap chain wheel.
Composed in two separate parts – guaranteeing straightforwardness in gather/destroy or operation stage.
Gears: Alloy Steel Material, exact machined, apparatus hobbed and unfeeling – properly strengthened. Goad/Helical blend to give quality and smooth operation.
Apparatuses might be greased up with a semi-fluid oil rather than oil, which is more averse to break, disposes of oil level checks and sticks to the riggings even after long sit still periods.
Motor: Conical Rotor Motor – working on 415 Volts, 3 Phase, 50 Hz AC Supply with In-manufactured braking component
Braking Mechanism: Disk sort, Spring Loaded acting at any heap position.
Control Panel Unit: Totally encased to shield from Weather, giving yield at 24 Volts to the Operational Control Station (Push Button Station).
Operational Control Station: Suspended from Hoist with a Cable and supporting Wire rope – with two push catches extendable to four/six push catch station.
Overload Relay: Provided for security to Motor
Limit Switches: Provided to control development of Hook in Hoisting movement at chose levels enacted by Lower Hook and End Stop. Avoids Accidents
Technical Details:
| | |
| --- | --- |
| Capacity: | 0.5 Ton / 1.0 Ton |
| Weight of Hoist at 3 Mtr. Lift: | 54 Kgs. |
| Extra Weight per Meter: | 1.5 Kgs. |
| No. of Falls of Load Chain: | 1 Falls |
| Overall Dimensions: (Head room x Other Dimensions) | 640 x 550 x 310 mm |
| Headroom (Hook Suspension): | 640 mm |
| Headroom (With Monorail Geared Traveling Trolley): | 680 mm |
| Headroom (With Monorail Electric Traveling Trolley): | 700 mm |
| Motor: | 1.5 HP, 3 Phase, 1440 RPM, Class F, 40% Intermittent Duty, Induction Motor |
| Hoisting Speed: | 4.7 Mtr./ Min |